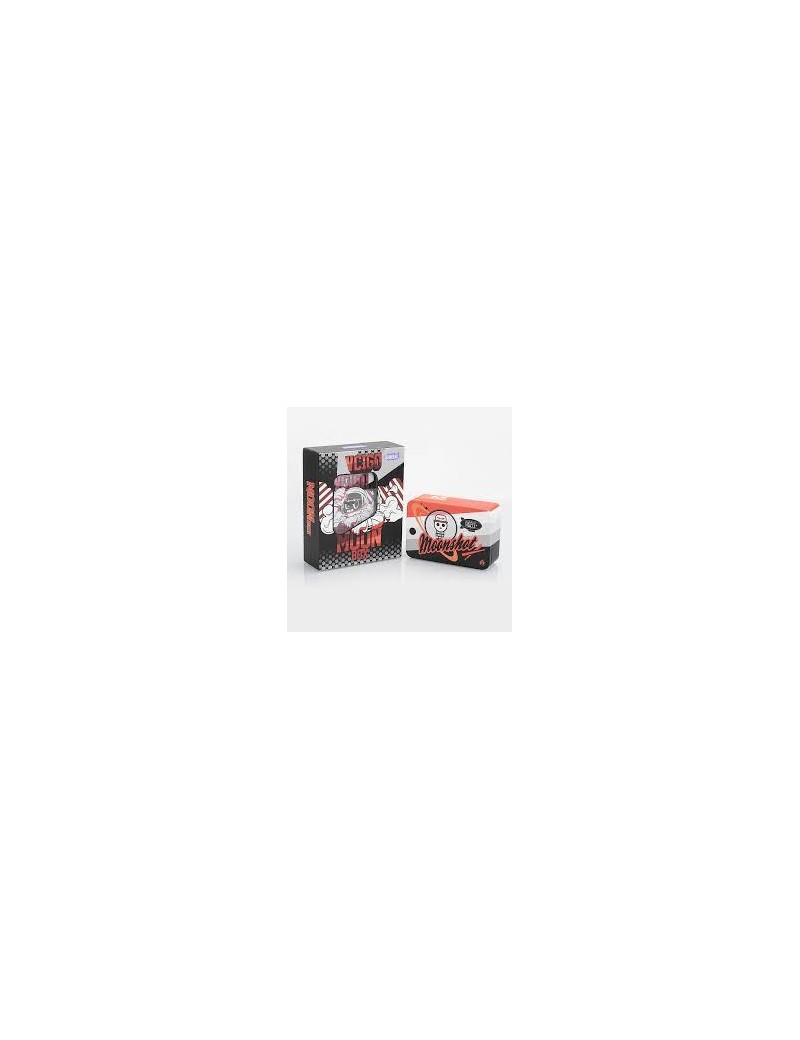  
Moon Box Starter Kit Sigelei Vcigo in Ireland
Security policy
Delivery policy
Return policy
Sigelei Vcigo Moon Box with Moonshot RDTA Starter Kit in Ireland

The 

Sigelei Vcigo Moon Box

 Starter Kit features a powerful yet budget friendly setup with unique and colorful artwork and design. The Vcigo Moon Box features an ultra lightweight tinplate and plastic construction designed for comfort and portability in mind. The Vcigo Moon Box can fire up to 200 watts and may be adjusted using the wattage knob. The Vcigo Moon Box features no display screen and utilizes a simple battery LED indicator light instead. The Sigelei Vcigo Moon Box requires (2) high amp 18650 batteries (sold separately).

The Sigelei Moonshot RDTA was designed by Suprimo with flavor and vapor production in mind. The Sigelei Moonshot RDTA is beautifully designed featuring a dual post build deck for easy coil builds. The small chambered rebuildable deck brings out maximum flavor and vapor. The Sigelei Moonshot RDTA features active cooling which keeps your tank even under heavy usage. The Sigelei Moonshot RDTA also achieves optimal e-liquid flow and air velocity ratio with it's precision flow design. It also offers a cotton control spin deck for easy rewicking. 

The Sigelei Moonshot RDTA is built with a durable 304 stainless steel construction and offers a convenient top-fill option for easy refills at all times. It also features a wide adjustable airflow control valve for superior vapor production and airflow. Try the Sigelei Moonshot RDTA to experience pure flavor and vapor at a high wattage without the messy dripping!

Features and Specs for Moon Box:

Dimensions: 3-7/16" x 2-1/8" x 1-1/16" (Without Tank)
510 Threaded
Adjustable Wattage Knob
Wattage Output: 50.0 - 200.0W
Voltage Input: 6.4 - 8.4V
Voltage Output: 2.0 - 7.5V
Resistance Range: 0.1 - 2.5ohm
Lightweight Tinplate and Plastic Construction
Battery LED Indicator Light
Requires (2) High Amp 18650 Batteries (Sold Separately)
*External charger recommended for optimal charging speeds*
Micro USB Charging Port (DC 5V/2.5A)
Low Resistance Warning
Low Battery Warning

Features and Specs for Moonshot RDTA:

Dimensions: 1-3/4" x 15/16"
24mm Diameter
510 Threaded
3.0ml Capacity
Top Fill Design with Twist Off Cap
Dual Post Build Deck with Two Post Holes
304 Stainless Steel Construction
Glass Tank
Active Cooling
Flow Precision
Cotton Control Spin Deck
Small Chambered RDA Deck
Dual Airflow Slots
Adjustable Airflow Control Valve
Curved Wide Bore Delrin Drip Tip

---

Rebuildable atomizer: The user of this atomizer must install wick and wire (coil) in order to use it. This atomizer is not pre-installed with coil. Installation is required. Wick, wire and mesh sold separately.

---

Important Note:
Rebuildable atomizer coils and wicks have known risks.

Rebuildables are for experts, not average or beginner vapers with no multimeter or knowledge of how to use a meter, or when a meter must be used, or how electronic devices work. These materials cannot safely be used by the inexperienced or those without basic knowledge of electronics.

This is because:

1. A rebuildable coil/wick MUST be tested carefully with a meter before it is used.
2. If it is not tested it is entirely the risk of the user.
3. Faulty wicks/coils WILL blow electronic devices.
4. New coil/wick units must be tested and then used first on a strong basic electrical APV that has short circuit protection.
5. No new coil/wick assembly should be used on an electronic device until known to be safe.
6. These items destroy electronic devices if faulty. This is a known issue. 

---

Battery Safety Warning:

Use special caution when using Li-ion cells, they are very sensitive to charging characteristics and may explode or burn if mishandled. Make sure you have enough knowledge of Li-Ion rechargeable batteries in charging, discharging and assembly before use.

Do not let your batteries come into contact with metal objects such as keys, loose change or any other metal objects. Doing so will put you at risk for short circuiting your battery and explosion. Do not put loose batteries in your pocket, purse, bag or anywhere else. When the battery is not in use, you must store it in a plastic battery case to reduce the risk of a battery explosion.

Always charge in/on a fire-proof surface. Never leave charging batteries unattended.

Do not modify batteries or chargers in any shape or form.

Only use Lithium Ion rechargeable batteries in devices that have a built in protection circuit board (PCB) that detect shorts, over-discharge, over-charging etc. Use of lithium ion batteries without a PCB may increase your risk or explosion an/or fire.

Store your batteries away from the sun and heat to prevent overheating your batteries.

Please be sure to inspect your battery before use to ensure it is not damaged including tears/rips in the battery wrap. Discontinue use immediately if battery is damaged.

Do not discharge batteries below 2.5V. Do not charge the batteries over 4.2V.

This product will include a 30 day Limited Warranty against any manufacturing defects from the date of delivery. Scratches and discoloration from regular use is considered normal wear and tear and is not covered by warranty. 

myvaporstore.com will not be held responsible or liable for any injury, damage, or defect, permanent or temporary that may be caused by the improper use of a LI-ION battery. Please have a basic understanding of the batteries you are using and how to care for them properly. 


 
Package Contents:


1 x Vcigo Moon Box
1 x Moonshot RDTA
1 x Replacement Glass
1 x Set of Spare Screws and O-Rings
1 x Allen Key
1 x Micro USB Cable