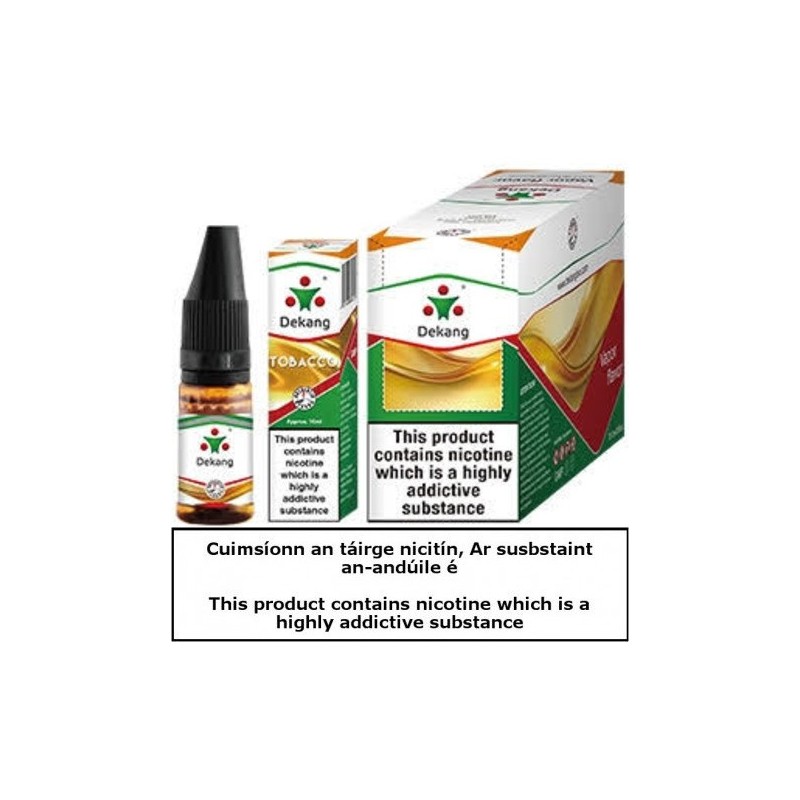  
CANDY FLOSS E LIQUID 10 ML
10 ml Candy Floss Dekang E LIQUID Ireland 
Dekang is worldwide biggest E-liquid producer. We are an official Distributor of Dekang E-liquid in Ireland. Buy Dekang E liquid from 2.49 euro per bottle. We deal with Dekang since we opened, and it is our best selling Vape juices in Ireland for MTL. This e-liquid are not over flavored or over sweetened, they re just perfect for all day vape. 
VG PG RATIO of Dekang e-liquids: 80PG/20VG
Size of Dekang E-juice: 10 ml
Nicotine levels of Dekang e liquids: 
• 18mg 
• 11mg 
• 6mg 
• 0mg 
Security policy
Delivery policy
Return policy
CANDY FLOSS e liquid - 10ml Dekang Silver Label
E-liquid with candy floss flavor 

The basis of this product: 
• 80% PG 
• 20% VG 

Nicotine levels of blackberry e liquid: 
• Strong 24mg 
• Medium  18mg 
• Low 11mg 
• Extra Low 6mg 
• Zero 0mg 

Dekang Silver Label is top of the range of Dekang e liquid factory. Dekang is the biggest and safetiest e liquid factory.
Dekang 10ml bottle comes with Silver Label dropper that makes it easy and slim to refill tank cartridges and cartomizers/ clearomizers. The new bottle also has a Seal which guarantees the authenticity of these products. We chose to sell this product because we want to offer our customers only quality products without leaving any trace of doubt on their authenticity. Silver Label Dekang E-liquid is most appreciated worldwide due to the flavours used by the manufacturer . 

Vapor Flavor is one of the main components of the e-liquid , leaving no odor. The vapors contain neither carcinogens nor other harmful chemical ingredients. 

Vapor Flavor can be used for all types of cartridges, Atomizers, clearomizer, etc. 

All products undergo independent quality control and have multiple international certificates. 

Vapor Flavor Dekang has a unique formula that provides a taste of natural elements. 

Composition of the Vapor Flavor Dekang : 
Dekang Company uses only natural flavor enhancers based on high quality and health friendly juices of their own manufacturing. It ensures the safety of its products by using environmentally friendly ingredients that are free of harmful substances. 

• Molecular technology secures natural extracts 
• High quality food grade solvent 
• Natural flavor enhancers.

All bottles have YNDK inscription on the caps to prove that this is original E-Liquid . 

All Dekang Silver Label bottles are shrink-wrapped, childproof, tamper-evident and hologrammed. The Silver Label range offers you 100% assurance of Dekang authenticity and the best consumer protection yet against dangerous counterfeit e-liquid.

To get rich e-liquid flavor. You will need to cut off the top 1 mm of theplastic dropper using scissors. Now screw cap and leave eliquid for 48 hoursto breathing.